For more information about our Exotic Shorthair Kittens for sale or their availability please contact us!
Our Exotic Short Hair kittens are affectionate, loyal, playful, cuddly and also intelligent, adaptable, very low maintenance, in addition to they also get along well with other pets and children!
These Eyes  
Serra and Vibes  black and white #tuxedokitten exotic short hair is a doll baby. Sweet and a little shy , but somehow always near me, always in the mix! 
Don't miss out on this gorgeous #exoticshorthairkitten . He will be health tested and final vaccination done next Thursday! 
DM for information, please Follow Us For Love 
 and Joy !!
@texstar_exotic_cats 
@texstar Cattery 
Cameo ( red silver and white ) Exotic Short Hair Male Kitten Ready Now!!
Cameo and White Tabby EXO Male 
My cameo ( red silver and white ) exotic short hair male baby kitten is now veterinary examined and fully vaccinated. He is an absolute angel baby doll and oh so handsome. 
Favorite things are purring , making biscuits and providing love! 
Forever Families Please DM ! 
Follow Us For Love   and Joy!
texstar_cattery 
@texstar_exotic_cats 
Blue and White Exotic Short Hair Van Neutered Male
Furever Bed Baby 
This #exoticshorthairkitten is very special. Small but thick. Plush coat but super easy care.
Loves to be loved .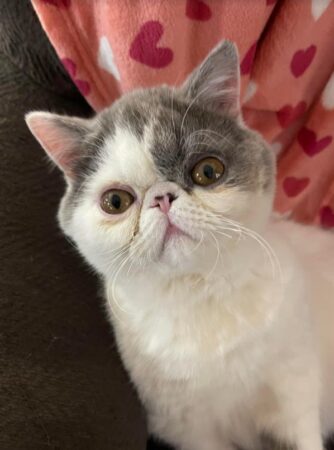 Entertaining! #purrfect for a family with small children. Neutered male. Fully vaccinated. 1 year congenital Health warranty.
Needs absolutely nothing. 6 months. #availablenow Nanny service nationwide. 
Follow Us For Love 
 and Joy !!
@texstar_exotic_cats 
@texstar_cattery 
Faces I Adore 
Dreamers children are doing phenomenal! So grateful to God for his blessings this Spring! I don't know who is an #exoticshorthair or #persiankitten yet. ..stay tuned ! 
Follow Us For Love 
and Joy !!
@texstar_exotic_cats 
@texstar_cattery
Blue and White Van Exotic Short Hair Male Kitten
" Bro " is the purrfect kitten for an active family with children. A total sweetheart. Laid back . Gets along with everyone in the house. Purring machine.  Hugger and lover. Absolutely loves his people. Beautiful plush easy care coat. Small and compact. 
Fully vaccinated. Being neutered first week of March.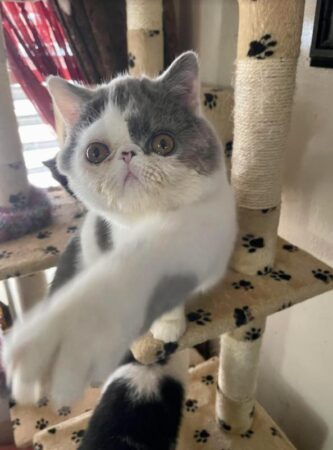 #texasexoticshorthairkitten #lovebug #exoticshorthair #smooshfacedcat #blueandwhiteextocshorthair 
Black and White Male Exotic Short Hair Male Kitten in Texas
This adorable black and white bicolor exotic short hair baby will be ready after the 1st of the year! 
@texstar_exotic_cats 
@texstar_cattery 
#texstarexotics #texstarkittens #exoticshorthair #kittenreels #kittenvideosofinstagram #kittensofinstagram #texasexoticshorthair #exoticshorthairkittens #homemade #christmasbaby
Contact us for more information!
469-777-2238 or visit us on Facebook 
#dilutecalico #calicocat #calicoexoticshorthair #texstarexotics #texssexoticshorthair #texstarkittens

View How your kittens are raised! Sleeping in the bed! Running free! Learning how to navigate life with dog and all ages and genders of cats and kittens!